Racism in boxing is not a new topic and has existed since the sport began. Many people want to avoid this sensitive topic, but I am not scared to address the animals in the WBC. There are still people in boxing today who still think that racism is appropriate. It is applied towards a specific group of fighters from one race to give another group of fighters an unfair, corrupt advantage. This primitive behavior in the form of racism is exercised daily by the World Boxing Council (WBC). 
Here are the top five reasons why the WBC is a super-racist boxing organization:
Blanket Denials of Racism by the WBC
The WBC will never admit the truth. The leadership of the WBC treats their racist behavior like gamblers in a poker game. Instead of folding the cards when someone calls them out for their blatant racism, the WBC chooses to double down. The Gervonta Davis vs. Leo Santa Cruz fight is one of the countless WBC fights where this organization has demonstrated how racist and biased they are. The WBC has a history of not promoting fighters of color, especially black fighters, and undermining and sabotaging individuals of color who work in professional boxing, such as Juan Luckey of KO Warrior Promotions.
Mauricio Suliaman is a White-Supremacist Racist
Mauricio Suliaman claims he is the only person who is authorized to do public relations for the WBC. He also says he is not a racist. He is a super liar. If you pay attention to the media that the WBC puts out, they ignore black fighters completely, and this is done intentionally.
There is no doubt that the WBC is biased and racist. Suliaman is also responsible for creating the "WBC franchise belt," which is never given to black fighters. Also, everyone can see that the Black Lives Matter (BLM) WBC belt and the Juneteenth WBC belt were done out of token symbolism to patronize and pacify the black public. However, the WBC's racist policies and actions remain the status quo.
Although Mexicans experience their own form of racism, discrimination, and also suffer from the ill effects of white supremacy, Jose Suliaman and the WBC do not identify as a Mexican organization. Instead, the WBC identifies as a global white supremacist organization, which is why Suliaman aligns himself with racist whites worldwide. They have a sole interest in profiting from boxing while ruining people of color in boxing that are not aligned with Suliaman and the organization's agendas.
The WBC secretly discriminates and shows blatant bias towards all people of color who work in boxing unless they kowtow with the WBC's racist policies and decisions. If you like being a dancing monkey in the boxing ring for racists, join the WBC. Suliaman thinks people are foolish and cannot identify how racist the WBC really is.
Devin Haney Rewarded for Racist Comments
One of the most exciting divisions in boxing is the lightweight division, and this division has created the birth of the New Golden Era of Boxing. This division includes great fighters like Teofimo Lopez, Jervonta Davis, Ryan Garcia, Mikey Garcia, etc.
Devin Haney, a WBC lightweight champion, was rewarded by the WBC for making a racist comment saying that if ten white fighters go up against him, he will take down all 10. Instead of sticking to his word to take out the next ten white fighters, which would be exciting to see, the WBC accused Haney of making racist comments, humiliated him publicly, and forced Haney to apologize publicly like a weak beta-male punk. As racist as Suliaman is, he took it upon himself to call out Haney for being a racist. What a hypocrite!
Ultimately, Suliaman and the WBC made Haney turn into an apologetic Cinderella just to keep his income and titles with the WBC. After Haney's weak public apology for speaking his mind, he was rewarded by Suliaman by giving him the WBC Lightweight title back. This behavior by Suliaman is no different than what slavemasters did to their slaves on a plantation to humiliate black people publicly and break them down emotionally and make them apologize publicly to keep their job, income, and status.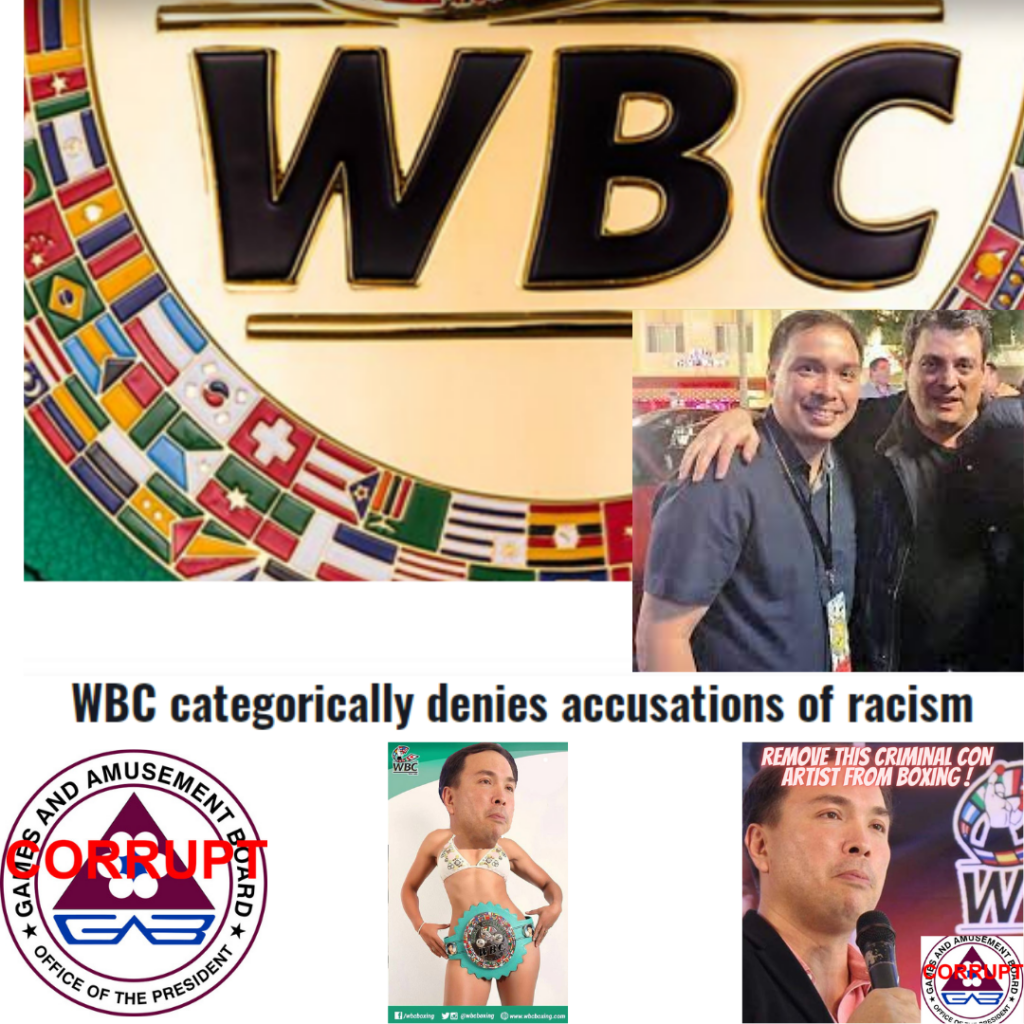 Racist WBC Vice President
WBC vice president Abraham Khalil Mitra, who is also chairman of the Philippines Games and Amusement Board, has also been charged with 14 counts of felony crimes in the Philippines and extreme racist criminal behavior for his organized illegal activity scam as WBC vice president.
WBC Vice President Baham Mitra is guilty of attacking, sabotaging, and robbing KO Warrior Promotions, promoter Juan Luckey, and his wife, a Philippines boxing manager. The WBC takes no responsibility for their racist criminal actions, categorically denies all allegations, and continues to deny all allegations, and takes no responsibility for the criminals who work under Jose Suliaman.
Baham Mitra has been proven to be a racist in the Philippines under the direction of Suliaman. These individuals go out of their way to promote white professionals in boxing worldwide, and Mitra allowed all white boxing pros to operate in the Philippines to earn a profit. No white professionals in the WBC are attacked and sabotaged in the manner that WBC officials used organized crime to attack, rob, and sabotage KO Warrior Promotions in the Philippines.
WBC Vice-president Baham Mitra intentionally attacked and robbed KO Warrior Promotions to benefit the racist Suliaman and WBC racist Filipino promoter of Sanman Promotions (JC Manangquil).
Located in General Santos City, Philippines, and Miami, Florida, Sanman Promotions is a super-racist promotion company that Baham Mitra and the WBC propped up by scamming, theft, and robbery of Juan Luckey, his wife, and KO Warrior Promotions.
Sanman Promotions came to prominence in the WBC by organized criminal theft and stealing WBC Silver title wins by WBC Vice-president Baham Mitra and WBC promoter JC Manangquil to criminally rob KO Warrior Promotions. All of these actions were supported by Jose Suliaman and Jill Diamond.
This organized crime scam and robbery to prop up Sanman Promotions was planned and executed by the criminal WBC Vice President Baham Mitra. Suliaman uses racist minions like Baham Mitra to undermine, destroy, and do corrupt dirty boxing in conjunction with the WBC's white supremacist racist agendas in boxing. Whenever you call out the WBC for their racism and criminal activities, they always "categorically deny," and there is never any investigation into their illegal activities. Why are these people allowed to rob others in boxing and get away?
WBC => White Supremacist Boxing Council
Mauricio Suliaman, president of the World Boxing Council (WBC), has been called out for his racism more times than any other sanctioning body official in boxing today. The WBC is blatantly disrespectful to people of color in boxing, and their racism is not only relegated to boxers of color.
The WBC applies its white supremacist philosophy in pro boxing to everyone of color who works in boxing, and the WBC's racism has a global reach.
Although the evidence is directly in your face, Suliaman and his minions will continue to follow the old white supremacist tactic of denying that racism exists in their organization. Suliaman will also behave like the old plantation master and say the exact old cliche phrases that all white supremacists use, such as:
"I have black friends in boxing all around the world."
"Some of my best friends are black."
"The WBC fought apartheid in South Africa."
"The WBC categorically denies any accusations of racism."
"We do not intend to hurt anyone in the WBC or have bad intentions."
"One of the most important values for the World Boxing Council is and always be to fight against racial discrimination."
"A fighter from the United States is the same and has the same exact rights as one from Nigeria, Japan, or Nicaragua."
These are just a few examples of how blatantly racist the WBC is. All racists say these same exact phrases. Jose Suliaman should really stop living in denial and constantly lying to people.
Don't Believe Me, Search for Yourself
If you want to know how racist the WBC is, all you have to do is go on any search engine and type in "the WBC is racist" or "Jose Suliaman is a racist". This guy is so biased, and he makes decisions about peoples' lives based on if he "likes" them or not. Someone needs to let Suliaman know that he is not the God of boxing, nor does he have the right to order Filipinos to destroy Juan Luckey and KO Warrior Promotions. Jose Suliaman is not only a racist, but he encourages blatant disrespect and criminality in boxing from his minion supporters.
Suliaman loves to strip the best fighters of color of world titles. Here are a few examples:
Jervonta Davis
Manny Pacquiao
Amir Khan
Jermall Charlo
Adrien Broner
Bud Crawford
Miguel Cotto
Suppose you compare the decisions of the WBC towards champions of color compared to white fighters like GGG, Lomachenko, and others. In that case, you will clearly see that the WBC is super, super racist and discriminatory.
Investigate the WBC
The WBC is a white supremacist organization that should not continue its destruction of people in professional boxing. The WBC is scandalous, ridiculous, and blatantly racist while continuing the old white supremacist strategy or denying that racism exists when everyone knows that the WBC makes decisions based on race-based discrimination and bias.
The racism of the WBC also extends to many executives, boxing officials, judges, and referees who work in the racist WBC. The WBC must be investigated to highlight their racist, discriminatory, and criminal activities happening globally under that guise of honorable boxing.
The WBC is not honorable nor ethical. They are undercover criminals. It is a white supremacist organization that attacks and destroys people of color in boxing. Ultimately, this organization undermines and destroys boxing just so a few people can earn a profit.